It. 1–16 (from 31)
Disgusting!
Bad service rude waiters and not tasty desserts. Only advertisements population.
Do not recommend
Very nice area, good food and entertainment. BUT incredibly rude staff. They ignore you, complain when u ask them for a drink and are extremely disrespectful and have no problem insulting you and telling you to go f*** yourself. I recommend Laguna Beach club. It's cheaper, right next door, better with nice and polite staff and great service
a bit of disappointment in the beloved restaurant
We were at pre-party at VinoeCucina yesterday, December 31, on New Year's eve. Everything was beautifully decorated, staff cheering, the menu exquisite as usual.

However, we have been waiting for our entrees for quite a long time. Eventually, the... Display completely...waiter explained that my husband's lamb requires more preparation than my pasta.

And voila! The dishes arrived!! My pasta was actually cold, maybe room temperature, because it has been waiting for a lamb main course. I complained several times about it to the waiter, He suggested to recook it when I was halfway through with it, and there was no way I could go through another exhausting waiting on a holiday day again,

or any day as a matter of fact.

Desert was brought way too fast - I was still working on my pasta.

We will come back, of course. We like the place, the food, the stuff

But I have no doubts that such an established restaurant like Vino e Cucina should have taken that cold pasta off the bill, thus making the customers happy and be true to their rating. Especially on a HOLIDAY!!

helen
SCAM Restaurant with SPECIAL Menu Pricing for Foreigners, Average Food, Baby Portions
Its with a heavy heart that i write this review, like the other low reviews for this restaurant on this site I was duped into coming here by a 'working girl' that doesn't actually do the 'work' that one thinks. Her job was to bring foreign guys she lured... Display completely...to Kiev to this place in order to earn money on their meals.

GUYS, IF YOU ARE MEETING GIRLS ON TINDER THEY ARE MORE THAN LIKELY OUT TO SCAM YOU, DONT WASTE YOUR TIME.

The Actual pricing of this restaurant is all over the web, the problem is that unless you search for the place in RUSSIAN you will never see the actual menu pricing. I found the menu pricing after a quick search and learned that i was charged between 40-65% more with the special foreigner menu. You wont know its a special menu as it looks just like any other menu when you go to a place.

The food while good (not Michelin Star by any means) had tiny portions and exorbitant pricing. I was for example charged 665 UAH or about 30 USD for a tom yang soup which if you look at the russian menu pricing is only 390 UAH. The story continues for all the menu items including 130 UAH for a latte and they even embellished the bill from the same menu i looked at for a glass of prosecco, it was 240 UAH on the menu i was looking at and i was charged 340 UAH when the bill came. They even tack on a service fee of 15% just to rub salt into the wound.

Just like other stories (if you google KIEV GIRL RESTAURANT SCAM) the person whom brought me there disappeared right when the bill was about to come to freshen up and once i paid the bill she magically re-appeared. How it works is that these girls are given debit cards for around 40% of the total bill for bringing the unsuspecting foreigner to their restaurant to eat.

The crux of the matter and why im writing this review is that we were actually hitting it off but it was all ruse. Fortunately for me, i wisened up to this when she asked to take me to an even more expensive place the next night claiming that the views were incredible, our date was to be at 3pm which during the winter is right around the time the sun goes down in kiev, so im not sure what type of magical views i was supposed to see at this time.

I contacted the place on facebook in order to get their menu, i wrote in english and while my question was seen, it was of course ignored. IMAGE ATTACHED.

While i was at this place, the restaurant was empty except for 1 american in his 30s, one britsh guy in his 50s and another what looked like asian guy around the same age. they were all sporting women from kiev.

Please dont get me wrong, the table service was great, not surprising as the restaurant as i mentioned was empty however the portion sizes were laughable and while my soup and sald was around 500 UAH, [censured]te' ordered the tom yang and a pasta dish which rang in at over 1200 UAH. Logical as shes paid on percent of the total bill. Ironically she complained to me the soup she ordered was too spicy even though she had mentioned to the waiter that she didnt like spicy food and didnt even eat her soup but did polish off the fist sized portion of pasta.

A typical good restaurant in kiev should set you back around 600 UAH for two people, even for a higher end place maybe this increases to a couple hundred UAH more but definitely not anywhere in the 3000 UAH mark.

https://www.tripadvisor.se/ShowUserReviews-g294474-d5566954-r731953144-Sanpaolo_Restaurant-Kiev.html#
Rude staff
Not friendly for kids, rude staff, the food is average
Veeeery good, guys!
Thanks a lot to all Shooters team. You created amazing atmosphere!)) Advise!
17.03 St.Patrick's Day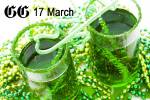 Good day! Are you redy? St.Patrick's Day!

Party in the classic green style !!

It will be fun and interesting. The search for the pot of gold coins on the edge of the rainbow.

Goodies and drinks! Music and Dance! Treats and gifts!

Special honors for red cutie in green!

Reserve (044) 235 51 88
31.10 b-hush Emoji Horror Night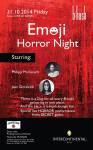 There is a Day for all scary Emojis gathering in one place.
And the place is b-hush lounge bar.
Special live HORROR performance from SECRET guest

Starring:
Philipp Markovich
Jean Gritsfeldt

Hosted by Syvokon
Dress code: freaking scary and bloody

b-hush Emoji Horror Night
31.10.2014 Friday
From 22:00 till dawn

For reservations, please call: +38 067 473 38 02, +38 044 219 1919
tequila CCQ Comfort Classe and Quality
Once I stepped through the doors of Tequila, I got the feeling that Tequila and Kiev are one.

Beauty, comfort and mystic all combined in one place. Maybe because it is in Podol, the old harbour of Kiev, maybe because of the excellent shisha or hookah... Display completely...as they call it here. The great food a mix and variety from all over the world, maybe because of the mystic eyes of the lovely waitresses, I saw one in a blue dress ever so charming. I don't know but in stead of the planned 30 minutes I stayed more than a few hours. And Tequila has a new regular custmer, me. And you if you dare to undertake this adventure.

Serge, a happy person.
Delicious Dinner
We had really delicious dinner in Linas! Specially meat from grill (beef and chicken shasliks) were very tasty. Good quality for reasonable price! I recomend that restaurant!
Excellent restaurant
On the 23th of October the first lesson of Floral Design for IWCK members from Iryna VYkhristenko took place in "Prokhodymets" - really nice restaurant at Podil! The atmosphere of event was pleasant and full of joy. Participants (charming Ladiesfrom IWCK... Display completely...and their children) had the great opportunity to work with alive flowers. They collected the Autumn arrangements with alive flowers and fruits to decorate their houses. Thanks for all the participans for their positive mood and creative work! We invite you to be the guest at our workshops( group works two times per month ) and of course to visit the restaurant "Prokhodymets" - the place of our meetings. We started! Join us!)))
It. 1–16 (from 31)