Detailed news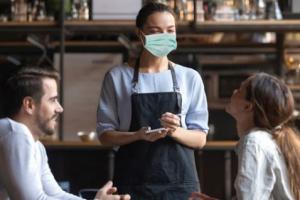 The government recalls the new quarantine rules and the reduction of yellow COVID certificates
On December 6, 2021 new quarantine rules and a 30-day validity period for yellow COVID certificates came into force in Ukraine.
Maria Karchevych, Deputy Minister of Health of Ukraine for Digital Development, reminded about this on December 3 during a morning briefing.
From December 6, that is starting Monday, new quarantine rules will come into force in Ukraine, which were adopted by the Government last week. They will affect, first of all, unvaccinated Ukrainians. At present, only those who have received at least one dose of COVID-19 vaccination and have the appropriate document will be able to visit public institutions at the yellow level of epidemic danger: a yellow COVID certificate or a certificate of form o63-O
- said Maria Karchevych.
The same rule will apply to employees of public establishments. To serve visitors and customers, employees of restaurants, hotels and gyms will need to have at least one vaccination against COVID-19.
At the same time, you can still use a 72-hour negative test or a COVID certificate of recovery to visit public facilities.
Thus, even at the yellow level of epidemiological danger, public establishments will not be able to serve customers, as well as allow employees who do not have one of these documents.
For work and visits to public establishments at the red level of epidemiological danger, only a document on obtaining a full course of vaccination, a negative test or a certificate of recovery is suitable.
From Monday, December 6, also reduced validity of yellow COVID certificates: from 120 days to 30 days.
We see a trend where people do not apply for the second dose in time after receiving the first dose. This means that a person does not have effective protection against the disease and its consequences. So, from December 6, all those citizens who from the date of receipt of the first dose of the vaccine will expire in 30 days - will not be able to use the yellow COVID certificate. It will be invalid & rdquo ;. We advise everyone who received the first dose of vaccination more than 30 days ago to have a second vaccination this weekend. After all, "overdue" code certificates will not be valid from Monday.
- explained the Deputy Minister.

Source: www.moz.gov.ua